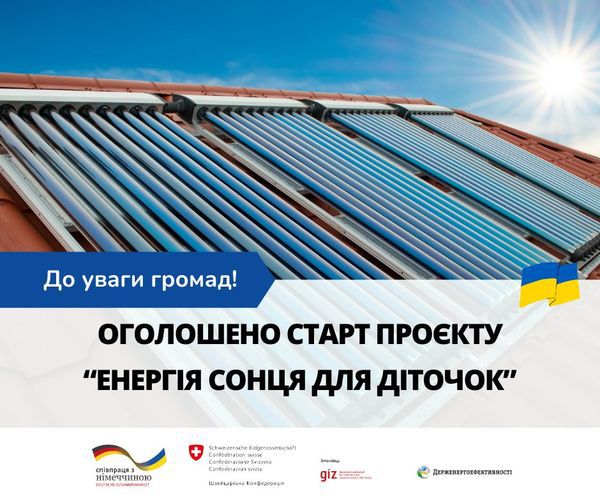 Kindergartens in territorial communities will receive solar systems for uninterrupted supply of hot water
17.10.2023
News
The initiative to ensure uninterrupted hot water supply to kindergartens in local communities across Ukraine will be implemented as part of a trilateral partnership between the State Agency on Energy Efficiency and Energy Saving and the GIZ Ukraine project Promoting Energy Efficiency and Implementation of the EU Energy Efficiency Directive in Ukraine and Ukrsvitloleasing.
As part of the launch of the Solar Energy for Kids project, it is planned to install 18 solar systems in kindergartens, which will ensure uninterrupted hot water supply in the winning institutions. The result will be comfort for children and cost savings for budgetary institutions.
To participate in the selection of projects, participants must submit a project (proposal) that defines the goal, describes the methods of implementation, and an approximate calculation of the expected energy saving effect.
Applications with a full package of documents should be sent to the following email address: prog2011@ukr.net, subject line "Solar Energy for Kids".
One application per community!
The application deadline is November 12, 2023.
Link to the application form: https://saee.gov.ua/sites/default/files/Anketa_12102023.docx
Become a member of 100 RE UA
Switching to 100% renewable energy in Ukraine is possible!