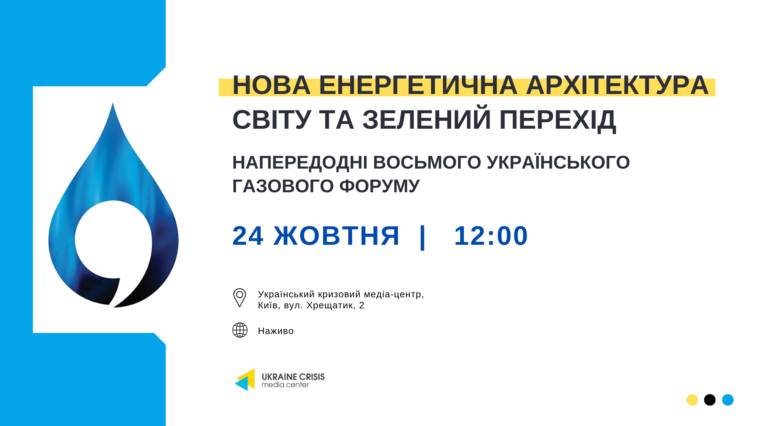 Press conference "New Energy Architecture of the World and Green Transition. On the Eve of the Eighth Ukrainian Gas Forum"
24.10.2023
Newsroom
Dear colleagues!
Today, on October 24, at 12:00, a press conference "New Energy Architecture of the World and Green Transition. On the Eve of the Eighth Ukrainian Gas Forum" will be held at Ukraine Crisis Media Center.
SPEAKERS:
– Oleksandr Dombrovsky, President of MHP Eco Energy and Chairman of the Board of Global 100% RE Ukraine
– Georgii Geletukha, Chairman of the Board, Bioenergy Association of Ukraine
– Leonid Unigovskyi, Head of the NGO "Expert Council on the Development of the Gas Industry and Natural Gas Market"
Moderator: Valeriy Chaly, Chairman of the Board of the UCMC, Ambassador Extraordinary and Plenipotentiary of Ukraine
On October 25-26, 2023, the Eighth Ukrainian Gas Forum: New Energy Architecture of the World and Green Transition". This year, seven discussion panels are planned to be held on the following topics:
1) Ukrainian gas market: from production to sales. Ways of development.
2) Regulatory and market risks in energy supply.
3) The EU and Ukraine. Renewable energy. Areas of cooperation.
4) Ukraine's place on the energy map of the world.
5) New energy. Biomethane. The great transition to green gases: a new reality or a fantasy of the future?
6) Physical and cyber risks to energy infrastructure. Lessons to be learned from Ukraine. Distributed generation.
7) Restoration of the Ukrainian energy infrastructure.
For the first time, the Forum will address the electricity sector, including distributed generation (solar, wind, storage and smart grid).
The Forum is expected to be attended by a wide range of representatives of international and Ukrainian gas and energy companies, recognized industry experts, representatives of local governments, European and American officials, and active civil society figures.
Become a member of 100 RE UA
Switching to 100% renewable energy in Ukraine is possible!