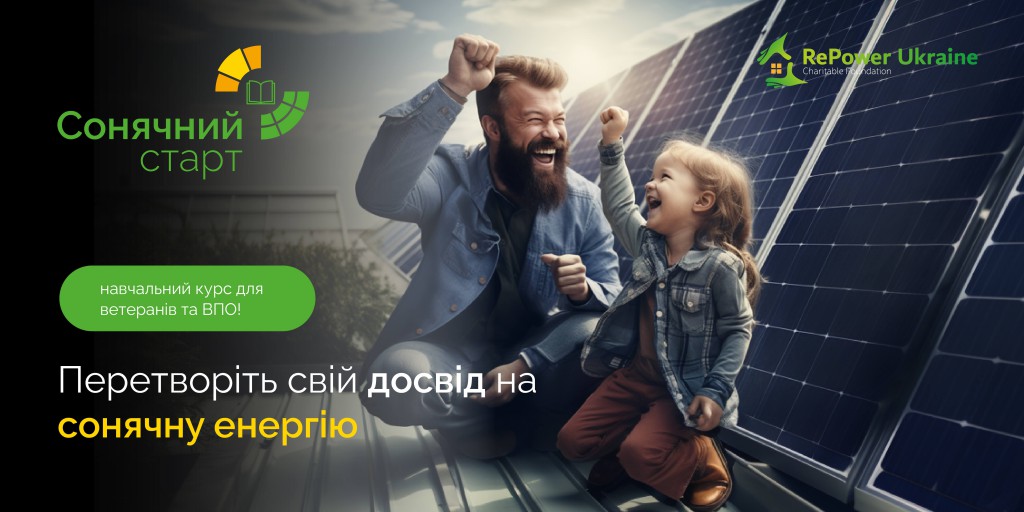 Training and Support: Start the Future with Solar Energy
26.09.2023
News
A unique training course called Solar Start for Veterans and IDPs has been launched in Ukraine. This course is your opportunity to gain valuable knowledge and skills in the field of solar energy in 16 weeks! It is specially designed for war veterans and internally displaced persons (IDPs). It is designed to be accessible to everyone, including those with shell shock or amputations.
What will you get?
– Relevant knowledge and skills to work in companies specialising in the design and installation of solar power plants
– A certificate and employment assistance (after successful completion of the training programme and tests)
– Psychological support from a team of professionals
Candidate requirements: work experience in the energy sector or related fields, preferably with an engineering degree; status of a war veteran or internally displaced person (IDP).
The course is completely free of charge for those who are selected. We invite you to fill in the application form and join the first selection stage. Applications are accepted until 30 September.
This project was created by the RePower Ukraine Charitable Foundation as part of the Support to Civil Society Organisations (CSOs) Programme in Ukraine, with financial support from the British Embassy Kyiv. The programme is implemented by Crown Agents in partnership with International Alert and in cooperation with Crown Agents in Ukraine.
Become a member of 100 RE UA
Switching to 100% renewable energy in Ukraine is possible!